Introduction
Whether you are happy or sad, ecstatic or sad, every time, place, and person, there is a suitable reason for two slices at the right time. Yes, high-quality friends are here, carrying 10 of the world's most delicious
potato chips
, saving you from mouth to stomach and IQ. However, in this era when people all over the world are pursuing individuality if you eat potato chips and you only know Lays, it will be too out.
Top 10 Delicious Potato Chips
With the improvement of people's living standards, people have also put forward higher pursuits for potato chips, not only requiring crispness and deliciousness, but also nutritious and healthy, and low-fat. Many potato chips came into being. Once they came out, they were deeply loved by people. Welcome. At the same time, many potato chips are crisp and nutritious, and non-fried is healthier. However, you can choose the barbecue flavor as you like and eat potato chips while watching the drama. Potato chips. Fat and beautiful.
Top 1 Korea—Hae Tae Honey Butter Potato Chips
Now a new standard for showing wealth: people can generally buy Haitai honey butter potato chips! Yes, these are the magical potato chips that are popular in Korea. It is said that in Korea, as long as it is on the shelves. Even Korean stars EXO, Girls' Generation, and many other stars have joined the ranks of snapping up potato chips, and they are constantly exposed. So I don't need to talk too much about the taste, because even money can't buy it! Take a photo of yourself with potato chips.
Top 2 UK—Tyrrells potato chips
Tyrrells is the only manufacturer of premium potato chips in the UK. The brand focuses on handmade potato chips, which retain the potato skin, are low-calorie, and crispy. All potatoes are planted within a 50km radius to ensure each potato's health, safety, and traceability.
Let's see if the packaging of potato chips has a sense of literature and art. Yes, their custom chip bag packaging selects old black and white photos of different styles, and they follow the style of literary potato chips. Salty vinegar tastes are different, such as the five kernels in moon cakes. Some people like it, and some people worry, but it is quite popular among more than 20 flavors, and currently, only 7 of them are available in China.
Top 3 UK—Pipers Crisps potato chips
Pipers Crisps claims to be the most arrogant potato chips in the world, located at the top of the pyramid of potato chips in the UK. Pipers are very draggy and don't care if anyone else buys them or not. The official website said: "Don't expect to find us in the big supermarkets. We don't sell them at all." But even so, potato chips are also the favorite of the middle class. Of course, pride also needs capital. Pipers are proud of their eight potato chip flavors, each of which has won a Gold Great Taste Award.
Top 4 Taiwan—Doritos cheese corn potato chips
Doritos is a famous potato chip brand in Taiwan, and children in Taiwan love it very much. The biggest difference from ordinary potato chips is that Doritos are more similar to the corn husks baked in Mexican tacos, all baked with non-GMO corn, so they have lower calories and fat and are quite healthy. In addition to the strong cheese aroma, the super-strong cheese flavor is accompanied by the fragrance of corn. The oversized package is enough for you to eat it all at once!
Top 5 Germany—Lorenz fresh and light sour cream potato chips
Lorenz is one of the largest snack food brands in Europe and is now 70 years old. The potato chips made in Germany have lived up to the good impression that the Germans left us with seriousness and quality assurance. Anyone who has eaten Lorenz potato chips will say, "This is the thinnest potato chip I've ever eaten!" Indeed, Lorenz potato chips are famous for their lightness, crispness, and flavor. The light sour cream fragrance can definitely satisfy the stomachs of small fresh people, especially suitable for small partners who have nothing to do and can't stop their mouths.
Top 6 Japan—NABISCO potato chips
NABISCO from Japan is divided into small cans and custom chip bags. The small cans are potato chips, and the custom chip bag is small potato wedges. Most people prefer custom chip bags:
It is convenient and hygienic to take.
The portion is small, and it is just right to eat without waste.
The blue custom chip bag with Cheddar cheese taste is beautiful in color, and the clear blue color makes it easy to eat.
Potato chips in a custom chip bag are thicker than regular canned potato chips and don't feel greasy. Cheddar cheese has a super-strong cheese flavor. You must try it! People are happy when they see it.
Top 7 Korea—Orion Baked Potato Chips with Organic Cheese
Orion Friendly Friends True friends, inseparable Orion Friends, good friends! This sentence must be hummed and sung to be the correct way to open it. In addition to delicious pies, Orion also has this potato chips! Many Korean girls are super fans of this, and also, with such a curly figure, the appearance of QQ is hard not to love. Also, baked potato chips are low in fat, low in calories, and less oily. Potato chips are made from organic potatoes. 30.1% of potatoes are paired with 12.4% of the cheese. They are healthy and delicious. Cute girls must eat them!
Top 8 Japan—Royce Dark Chocolate Potato Chips
Royce has always been famous. Whether you have been to Japan or not, you must have heard of their chocolate. In Japan, Royce is also a popular brand in Hokkaido, especially popular with women. So, when chocolate met potato chips, Royce decided to do it, and it was the best of both worlds. Due to the shelf life of chocolate, the potato chips are only good for one month. The silky chocolate sprinkles on the thick potato chips have the right amount of sweetness, just right for Asian palates. However, chocolate is easy to refrigerate and needs to be refrigerated before eating.
Top 9 Indonesia—Maxi mixed roots potato chips
This Indonesian Maxipato chip is a mix-and-match style, which comprises four kinds of sweet potato, purple sweet potato, taro, and wooden potato chips. Sweet potatoes are recognized as an extremely healthy whole grain food, and taro and cassava are also listed because they are rich in many essential minerals. For health-conscious people, if you like the taste of potato chips but must eat some coarse grains to maintain your fitness and lines, this one pack will do it all!
Top 10 UK—Walkers Thai Sweet and Spicy Potato Chips
The British love to eat potato chips is famous all over the world, and Walkers is the No. 1 brand of potato chips in the UK. Just looking at the two big red chili peppers on the package, the bright visual impact suddenly hit me, and my first thought was, "How spicy is this!" Don't be afraid. This one is not that spicy. People follow the style of Thai sweet and spicy sauce, which is mainly sweet and supplemented by spicy. The potato chips have a very strong taste, mild sweetness, and a little spiciness. The taste is unique. After eating it, you can't stop.
How to make potato chips
Potato chips are snacks made from potatoes. Potato chips are made by peeling the potatoes, cutting them into thin slices, then frying or roasting them until crispy and seasoning. Let's see how to make potato chips yourself.
Ingredients
Sichuan pepper noodles 35g
The appropriate amount of black pepper
The appropriate amount of salt
A moderate amount of sugar
The appropriate amount of rapeseed oil
The appropriate amount of olive oil
Methods/Steps
1.Cut the peeled potatoes into 1mm slices. Blanch in boiling water for about 30 seconds, remove and drain.
2.Heat the rapeseed oil to about 180 degrees. Add the air-dried potato chips, fry until golden brown, and puff up. Remove and drain quickly.
3.Mix chili noodles, pepper noodles, and cooked white sesame powder evenly.
4.Sprinkle an appropriate amount of spicy seasoning powder on the potato chips. Shake up and down, and sprinkle with salt and sugar.
5.Put one-millimeter thick potato slices in cold water. With a clean cotton cloth, blot the surface of the potato chips dry.
6.Brush a layer of olive oil on a baking sheet, place potato chips, and sprinkle with salt and black pepper. Transfer the potato chips to an oven preheated to 200 degrees and bake for about 7 minutes. Take out and let cool.
Five excellent custom chip bags
1.Custom chip bags with kraft
Using kraft paper to make custom chip bags with kraft has been widely used. Custom chip bags with kraft are non-toxic, odorless, non-polluting, comply with national environmental protection standards, have high strength and high environmental protection, and are currently one of the most popular environmentally friendly packaging materials globally. When shopping in supermarkets, shopping malls, shoe stores, clothing stores, and other places, custom chip bags with kraft are generally available, convenient for customers to carry and buy food.
2. Custom chip bags with window
The shape, thickness, size, and appearance of custom chip bags with windows, such as tobacco, wine, food, beverages, medicines, children's toys, etc. Custom chip bags with window has good sealing and shading, are waterproof and moisture-proof, and keep fragrance and freshness. At the same time, custom chip bags with window has a self-sealing zipper or back strip design, which can be opened repeatedly, which is convenient for storing potato chips. Hibags company adopts environmentally friendly water-based ink Flexographic printing, which meets food-grade requirements. However, water-based inks are especially suitable for packaging and printing custom chip bags with windows. Customer design recommendation to provide you with personalized potato chips bag service.
3.Custom chip bags with valve
Custom chip bags with valve has a one-way valve:
Exhaust carbon dioxide released by custom chip bags with valves,
Avoid the peculiar smell caused by the oxidation of potato chips
4.Custom chip bags with zipper
Custom chip bags with zipper has a special design. This one is convenient, simple to use, and saves time. So, you can reuse custom chip bags with zippers and guarantee an effective seal. Not only that but from custom chip bags, The product in the inner bag can also be seen on the surface of the zipper. Custom chip bags with zipper also has a three-dimensional design so that it will not be easy for guests to pour out the product when using your product. The interior of Custom chip bags with zippers is made of moisture-proof material and can be heat-sealed with ordinary food heat-sealing machines.
5.Custom personalized potato chip bags
Hibags is the source manufacturer of personalized potato chip bags, dedicated to all kinds of personalized potato chip bags. In particular, personalized potato chip bags is a one-stop, customized service. At the same time, we have been innovating and developing personalized potato chip bags for more than ten years. Not only In this way, from free design and sampling to processing and mass production of Hibags, but there are also professional flow production lines, which can meet the individual needs of different custom products. Again, we are the source factory of personalized potato chip bags, and our prices and products are superior to the market price. If you need to customize personalized potato chip bags, please contact us. And look forward to working with you.
The process of custom chip bags
Step 3 Confirm the design draft
Step 4 Schedule production
Step 5 Deliver custom chip bags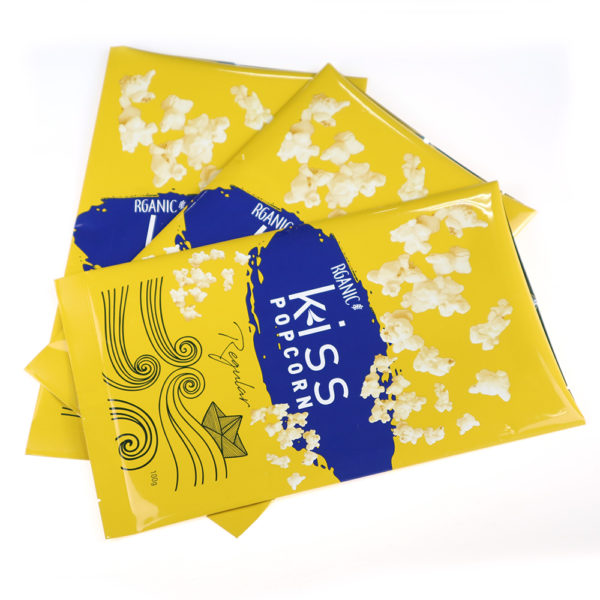 Conclusion
Hibags has always kept forging ahead and innovating continuously in the field of potato chips. At the same time, Hibags has established a long-term trustworthy relationship with each customer with high professional and high-quality services and products. Sincerely hope that you are not only our eternal customer but also our eternal friend. Integrity is our aim, quality is our guarantee, innovation is our pursuit, and win-win is our goal.
Contact us!
We look forward to your attention and look forward to working with you.