Whether are you eager to know what the custom chip bags template is? Don't worry. I will give a small example to illustrate it. Please listen to me slowly. Let's suppose you are a businessman who sells chips. During the early stage of entrepreneur, it's possible that you buy the packaging bags directly from the wholesalers. Once your storefront has been expanded, it's right time for you to develop a few agents.
To this end, you should redesign the chip bags with your own shop name and address. I will remark here that the chip bags redesigning is relate to template making. However, the template making requires certain expenses, which should be borne by youself. Some customers may complain that why do we still charge an extra custom chip bag template fees? So what's going on here? As we all know, if you care to custom chip bags with certain graphics, you must prepare a template in advance. For example, if you want the personalized chip bags printed with the graphic of circle, the technicians must fix the round template on the printing machine before printing. In short, the custom chip bag template is a model required for printing.
It is remarkable that the responsibility to provide custom chip bag template falls on customers rather than us plastic bag manufacturer. The custom chip bag template is remained up in factory for a little while. Once the completion of production, the custom chip bag template can be taken away by customeres or kept in the factory for next time using conveniently. To deepen your understanding, I carefully select several custom chip bag templates with good feedback for your reference. Certainly, you can also find them yourself.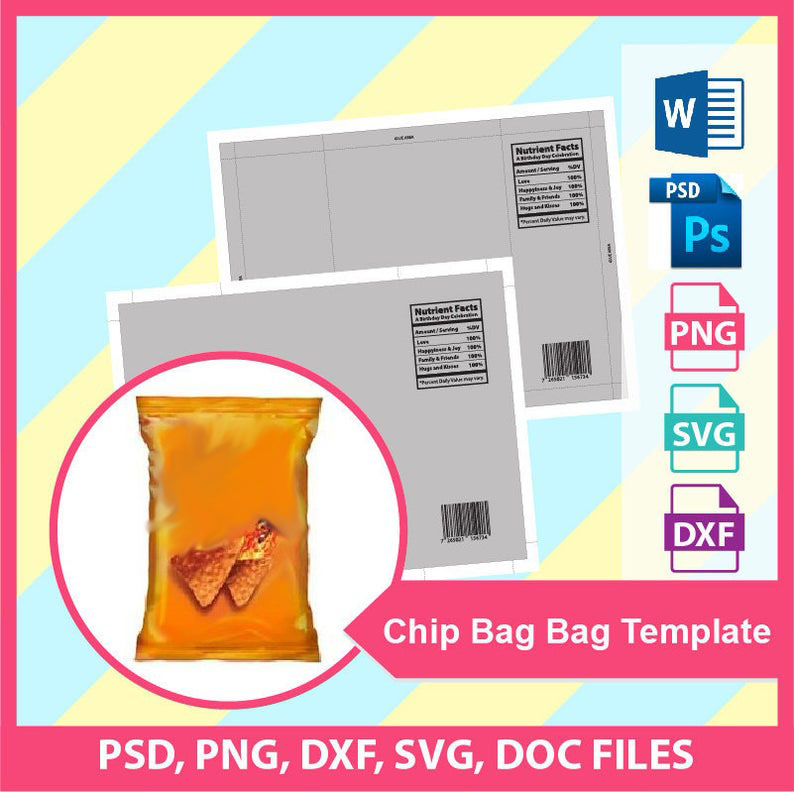 This is blank custom chip bag template ideally great for creating your own personalized chip bags.
Size:
The size of personalized chip bags can be customized.
The custom chip bag template size in picture: 8.5 width x11length
Custom chip bag template size after assembly: 4.8 width x 7.8 length
5 Filetypes:
SVG, DXF ( for cutting file ), PSD (Photoshop), PNG, Doc (for Mircosoft word)
Compatible Softwares:
Microsoft word, Photoshop, illustrator, Silhouette Design Space, Cricut, etc.
Others:
For PNG, PSD, and DOC File
2 layers include:
1. With all score line for easy to make chip bags.
2. Score line is outside the chip bags, the guideline will not appear when printing.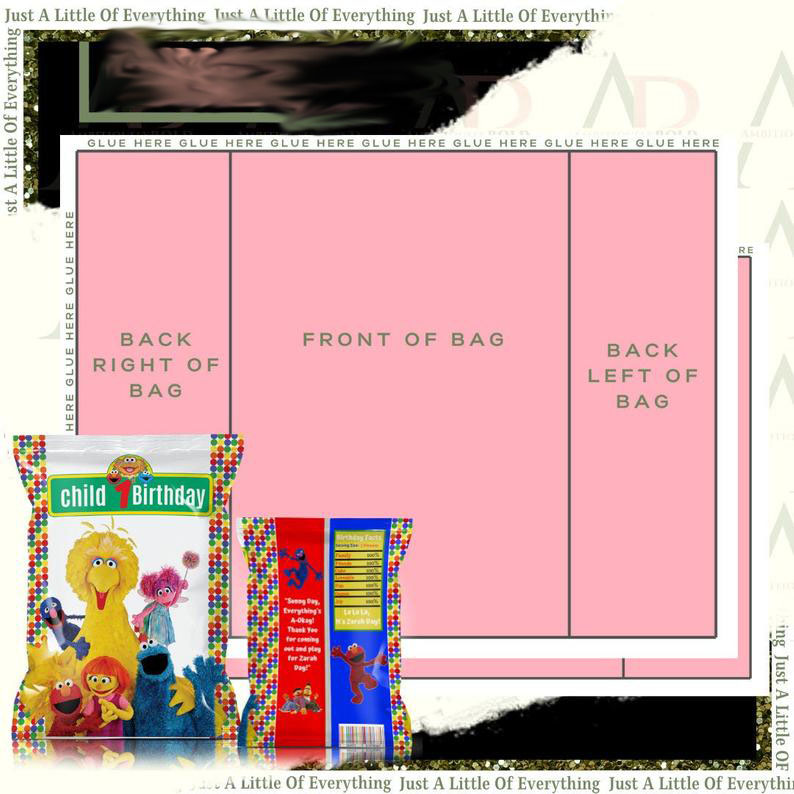 This kind of blank custom chip bag template will create your own plastic bag favors. Such blank custom chip bag template can be customized to any theme.
Compatible Softwares:
Canva, PicMonkey, Cricut, Silhouette, etc.
Application:
This custom chip bag template is also suitable to pack 1oz of chip bags, cookies, pretzels, crackers, candy, and so on.
Matters Needing Attention:
In a bid to get the best results print on glossy brochure paper , please use hot glue or double-sided tape to adhere.
The two examples stated above is just one of samples of the personalized chip bag. They are just for your reference. If you have another ideas, you can consult us for further information. Our staff will be availablke at any time. We will wait for your phone sincerely!