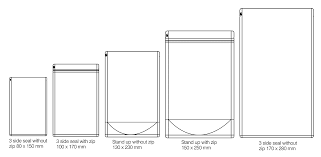 It's not very difficult to select a suitable stand-up pouch size. The only thing you need to fulfill is restoring accurate knowledge to your brain. Specially, you should be aware of the features and the size that your pouch needs. Stand-up pouch packaging saves your product. It can stand out on store shelves and is cost-effective. Choosing the correct stand-up pouch dimensions is the first step. And in this article, I'll explain a few important things to know before you begin. After selecting the proper stand-up pouch size, you can focus on other factors like pouch features, type of packaging material, and stand-up pouch supplier.
The common stand-up pouch dimensions are as follows:
1 oz stand up pouch

2 oz stand up pouch

4 oz stand up pouch

8 oz stand up pouch

12 oz stand up pouch

16 oz stand up pouch
How To Measure A Stand-up Pouch Size?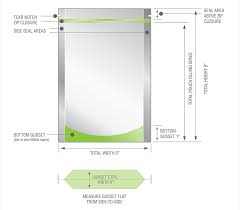 There are two main factors to think about when sizing a stand-up pouch. Stand-up pouch dimensions are listed every time in the order: width, height, and gusset. You can check the stand-up pouch size chart provided by stand-up pouch manufacturers. To decide the gusset size, just open the pouch and measure from side to side on the bottom of the bag to get the exact read. Usually, pouch measurements are based every time on outer dimensions. But remember, there's a change between the listed stand-up pouch size and its real fillable space. For example, a pouch mentioned as 6 x 8 inches will not essentially fit a product measuring 5 x 6 inches. Because of that, you should test it with your product first. The pouch characteristics like ziplock closures, tear notches, seal dimensions, and hang holes are entered in the total sizes of the stand-up pouch packaging. So you can affect the fillable space. What does this fillable space mean? It extends to the bottom of the bag, which is below the zipper or heat seal line.
Search for the Volume
It is especially significant when deciding the correct standing pouch size. For example, eight ounces of vitamin pills take up less volume than eight ounces of a massive product such as granola.Some bulkier items may even need you to use a pouch that is a full size larger to accommodate the additional volume. It also determines the stand-up pouch price. So make sure to check your product in different pouch sizes before purchasing. 
How Do You Fill To Get The Right Stand-up Pouch Size?
Usually, these situations happen in the stage of custom stand-up pouches. You first negotiate with the manufacturer an acceptable stand-up pouch price. If the number of stand-up pouches wholesale meets the supplier's requirements, they will give a discounted price. Another thing to search is whether you complete stand-up pouch packaging by hand or use automation during the process. How stand-up pouch manufacturers construct your bags will affect the size, thickness, and packaging material type you want. 
The fillable area 
This means measuring the bag under the zipper line to the lower part of the bag. The piece above the zipper is usually used to apply labels. It is also the area that can be heat sealed to protect your item and ensure a tamper-evident seal over the tear notches. This area is included in the total standing pouch size, but it is not a fillable area. We have seen it so many times, where someone assumes that a bag size of 4″ x 6″. For example, it will fit their item measuring 4″ x 5″ (sorry, but it's not going to fit). Below, we give some stand-up pouch size charts for your reference.
1 oz stand up pouch

2 oz stand up pouch

4 oz stand up pouch

8 oz stand up pouch

12 oz stand up pouch

16 oz stand up pouch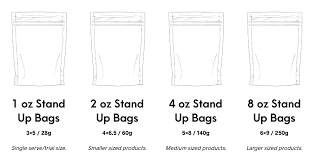 1 oz Stand-Up Pouch size 3×5 (28g)
Actually, the 1 oz stand-up pouch is the best sample. There are single-servings and trial-size items. And it is made with resealable zipper closure. It has improved with an FDA-compliant food-grade laminated interior preserving and saving your items. 
2 oz Stand-Up Pouch size 4×6.5 (60g)
These 2 oz stand up pouches are primarily suitable for smaller-sized products and lower volume items. These 2 oz stand up pouch standing pouch sizes are eco-friendly as well as protect the contents with a food-safe laminate interior. Save on storage space and shipping costs using these lightweight heat seal packets.
4 oz Stand-Up Pouch Size 5×8 (140g)
These dimensions of a 4 oz stand up pouch is ideal for storing food items and more. These custom 4 oz stand up pouches can use again for different occasions, making them a great eco-friendly packaging solution. 
8 oz Stand-Up Pouch size 6×9 (250g)
This type of 8 oz stand-up pouch size is most suitable for more oversized volume products. They have been designed with a sturdy, self-standing lower part gusset to show the products on retail shelves prominently. 
12 oz stand up pouch and 16 oz stand up pouch are generally used for packing more oversized items; we will not list them here.
Test Stand-up Pouch Dimensions In Your Kitchen
Get a better beginning for stand-up pouch size, and you could start in your kitchen. First, check a pouch on your shelf keeping the same item. After that, empty the pouch and put the products into it. So you can imagine the bag size that you want. You would be able to check any grocery store and purchase the type of pouch suited to those items to try filling it with your own material for reference.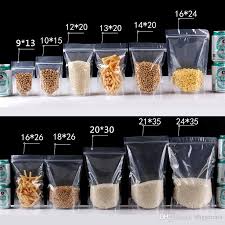 Within the research, try to contact a summit representative for packaging products and solve your problems. There are many professional stand-up pouch manufacturers. Most of them provide custom stand-up pouches service. If you have stand-up pouches wholesale demand, you will get a better stand-up pouch price. And these stand-up pouch suppliers will walk you through the difference between material structures and various levels of automation for your filling equipment. Mainly there are five different styles in those pouches. It will range from natural kraft stand-up bags to matte frosted stand-up bags. When you select the most suitable stand-up pouch packaging, go with better knowledge after watching youtube videos.
There are plenty of high-quality videos which demonstrate the main changes between every standing pouch size. Apart from that, it would help if you had an idea about the volume and the height of the product you will pack here. The volume of the product is essential when choosing the stand-up pouch dimensions. Let's take an example. Just think about the fine salt vs. whole coffee beans. Those two have different volumes. The bulkier the item, the more space is needed. Therefore usually, companies consider about three main measurements when selecting the right stand-up pouch size. The area above the zipper is the fillable area, which is the area represented by the three measurements.
Conclusion
When you are going to choose a suitable stand-up pouch packaging, there are a few main things to consider. Today, we can see various sizes of pouches starting from 1 oz stand-up pouch size. So it's up to you to choose the best option considering your necessities.